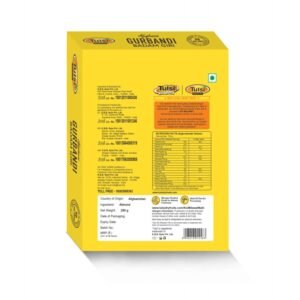 Tulsi Badam Giri Gurbandi Maska Giri 250g
INR
100% Natural Best quality Gurbandi Almonds
Gurbandi almonds, also known as 'Choti giri,'are imported from Afghanistan.
Gurbandi almonds are also rich in nutrients such as omega 3, Vitamin E and phytochemicals.
Almonds are higher in fiber, calcium, vitamin E, riboflavin and niacin than any other tree nut.
Storage Information- Keep it airtight & refrigerated for optimum freshness.
Tulsi Badam Gurbandi Maska Giri is top of the list in the nuts when you consider their huge benefits. This Choti Giri may be small in size but gives abundant energy of nutrients like magnesium, manganese, Vitamin E, protein, fiber etc. Almonds are loaded with antioxidants. Gurbandi almonds, also known as 'Choti giri,' are imported from Afghanistan. A small portion of the total yield is bitter because of the high concentration of oils. Choti Giri is an essential food for the natives of Kabul, Afghanistan. Almond packet that is nicely wrapped and get the most satisfaction eating them.
Tulsi is a premium nuts and dry fruits brand. Tulsi has pioneered a new and yummy way to consume the daily dose of healthy nuts and dry fruits. At Tulsi, we bring the taste and health together in a single pack in the finest of packing. We believe in serving the best products to our customers and hence we travel across the world to procure the finest nuts and dry fruits. Our products are processed and packed in FSSC: 22000 & HACCP certified plant – The best among food safety ratings and certified by 'FSSAI'.